Precision Medicines for Debilitating Disorders with a High Unmet Need
Through extensive research and development efforts, we have generated a robust pipeline of potential therapeutics that have the capacity to transform the long-term treatment landscape for patients lacking therapeutic options or experiencing resistance to current treatments. Our most advanced program, INVA8001, is a highly selective and potent oral small molecule inhibitor of chymase, a protease released upon mast cell degranulation. INVA8001 holds promise as a first-in-class therapy for atopic dermatitis (AD), indolent systemic mastocytosis (ISM), eosinophilic esophagitis (EoE), with potential expansion into primary sclerosing cholangitis (PSC) and chronic urticaria (CUC). 
Additionally, our early-stage program, INVA8003, is a potential first-in-class small molecule multi-inflammasome inhibitor targeting ASC, an adaptor protein crucial in the assembly and activation of various inflammasomes. This program has the potential to address the underlying immunopathology of chronic inflammation across multiple IMIDs.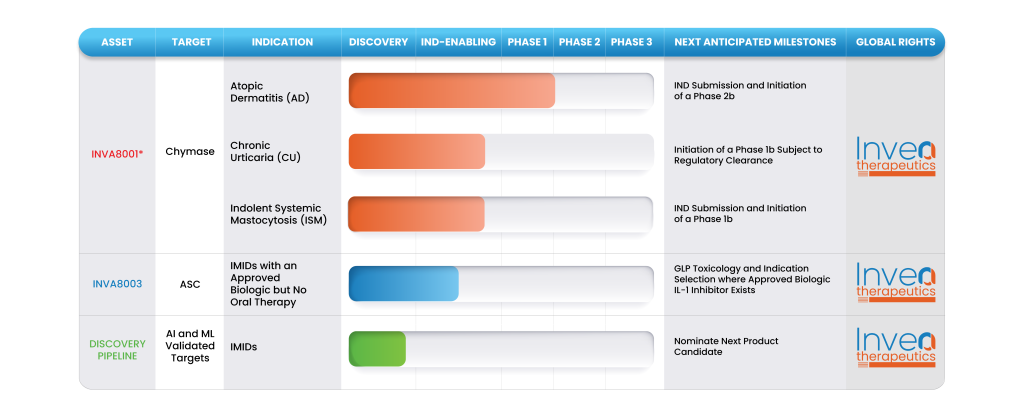 INVA8001
INVA8001 is a first-in-class, oral, highly selective inhibitor of chymase impacting inflammation, tissue remodeling, and fibrosis, with proven human safety, for the treatment of Eosinophilic Gastritis/Duodenitis (EG/EoD), Eosinophilic Esophagitis (EoE), and Primary Sclerosing/Biliary Cholangitis.
INVA8002
INVA8002 is a novel orally delivered colon-targeted formulation of a small molecule inhibitor of a 5-HT3 receptor for the treatment of moderate to severe Ulcerative Colitis (UC), a common form of Inflammatory Bowel Disease (IBD).
INVA8003
INVA8003 is a first-in-class pan- inflammasome inhibitor targeting ASC protein oligomerization, which disrupts the inflammasome assembly of NLR/Ps with a broad anti-inflammatory impact and potential applications across a wide range of inflammatory GI disorders.